BLOWOUT ITEMS

ARE ALWAYS IN STOCK AND SHIP SAME DAY!!
EZ-2

Self-Contained Emergency Lighting

Now $50.00

R-1 Emergency Light

6 VOLT EMERGENCY LIGHT w/ THERMOPLASTIC HOUSING w/ BATTERY BACKUP 120/277 VOLTAGE INPUT

Now $18.96

LED-C-U2GW-EM

LED COMBINATION EMERGENCY LIGHT / EXIT SIGN (NICAD BATTERY BACKUP)

Price: $48.78

PS-1270F2 Battery

PS-1270F2 Power-Sonic Rechargeable Sealed Lead Acid Battery

Price: $23.33
We accept all Federal, State, Government and Educational Purchase Orders.
Emergency Lighting Brands:
«View All Brands»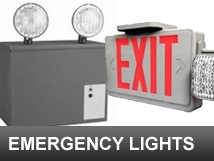 Emergency Lite Service Center (ELSC) specializes in all
emergency lighting products. Since 1986, ELSC has provided its customers with the highest quality products and parts as well as excellent customer service and technical support.
Internet Sales Since 1996
BLOWOUT ITEMS ARE ALWAYS IN STOCK AND SHIP SAME DAY!!!