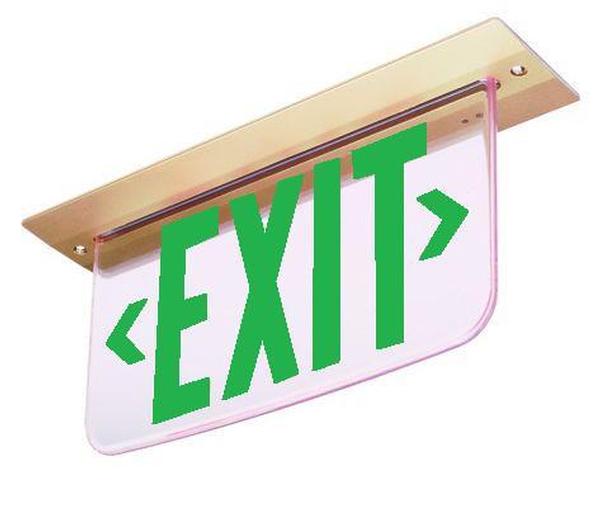 LECSGXNA-XK
LECSGXNA-XK
LECSGXNA XK
LECSGXNAXK
For more information, open this spec:
PDF
AC Only | Less Rough in Kit | Green Letters | Satin Aluminum Trim Plate

---
Dual-Lite Emergency Lighting
IMAGE MAY NOT REFLECT CORRECT COLOR AND/OR MOUNTING OF FIXTURE
FOR ADDITIONAL OPTIONS AND PRICING, PLEASE CALL US AT

(763) 542-3155
(763) 542-3155
Application
Architectural edge-lit exit signs featuring elegant styling, easy installation and energy-saving long-life LED lamps.
Features
All Models
• Easy to install
• Extruded aluminum construction
• Available in six color finishes: white, black, satin aluminum, satin brass, chrome, and dark bronze
• Long-life LED lamps
• Molded acrylic plaque
• Clear acrylic plaque standard
• Ceiling, wall or end mounted models for recessed installations
• Red or green letter models
• Universal rough-in box
• 120/277 VAC, 60 Hz operation
• AC on indicator light
Emergency Models
• Maintenance-free nickel-cadmium battery
• Low voltage disconnect
• Test switch
Options
• Emergency models available with Spectron® self-testing/self-diagnostic electronics
• 2-circuit operation
• Fire alarm panel interface
• Flasher and/or audible alarm module
• Recessed mount exit less rough-in kit
• Remote DC operation
• 220-240 VAC, 60 Hz operation optional
• Recessed mount exit less rough-in kit
• White plaque background
• Mirror plaque background
• 8-inch letter plaque (red letters only)
• Special wording
Temperature Range
• 68°F - 86°F (20°C - 30°C)
Compliance
• UL 924 Listed
• NFPA 101 (Life Safety Code)
• NFPA 70 (National Electrical Code)
• Nema Premium® Qualified
Need quantities of 15 or more?
Call us at (800) 521-4045 for possible reduced pricing.