Lithonia Lighting Wet Location Die Cast NEMA Rated Damp Location Corrosive Location Cold Weather Steel Exit Signs
Lithonia Lighting
Lithonia Emergency Systems manufactures a wide selection of exit signs, emergency lighting units and emergency power systems for commercial and industrial applications as well as special environments. These products include Signature and Precise architectural exit signs; Extreme all-conditions exit signs; Quantum thermoplastic exit signs and emergency lighting units; Affinity architectural emergency lighting; Titan steel exit signs and emergency lighting units; Merlin LED exit retrofit kits; Power Sentry fluorescent battery packs; and standby AC power systems.
Exit Signs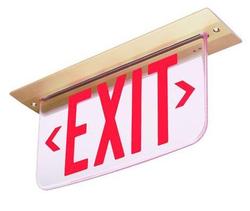 The exit signs category features lighted LED exit signs to comply with building fire codes and insurance standards. These energy-saving, illuminated, long-life LED exit signs use less than 5 watts of power, lowering your energy consumption and saving you money every month. We offer a wide range of designs and features for lighted LED exit signs including:
Edge-Lit Exit Sign
,
Cast Aluminum Exit Sign
,
Steel Exit Signs
,
Wet Location Exit Signs
and
Self Testing Exit Signs
.
Damp Location
These items can be placed where they may be splashed with water. Typically they are safe to be used outdoors.
Wet Location
Rated for outdoor wet location application - Weatherproof
NEMA Rated
NEMA Rated enclosures are intended for indoor or outdoor use primarily to provide a degree of protection against the entry of water during prolonged submersion at a limited depth. NEMA 12 NEMA 12 enclosures are designed to prevent the ingress of dust, water, and oil.
Corrosive Location
Corrosive Location
Steel
Steel Exit Signs
Die Cast
Die Cast
Cold Weather
Cold Weather