Wet Location Die Cast NEMA Rated Corrosive Location Red Letter Dual 120/277 voltage Exit Signs
Exit Signs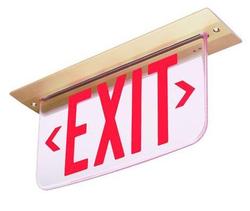 The exit signs category features lighted LED exit signs to comply with building fire codes and insurance standards. These energy-saving, illuminated, long-life LED exit signs use less than 5 watts of power, lowering your energy consumption and saving you money every month. We offer a wide range of designs and features for lighted LED exit signs including:
Edge-Lit Exit Sign
,
Cast Aluminum Exit Sign
,
Steel Exit Signs
,
Wet Location Exit Signs
and
Self Testing Exit Signs
.
Wet Location
Rated for outdoor wet location application - Weatherproof
NEMA Rated
NEMA Rated enclosures are intended for indoor or outdoor use primarily to provide a degree of protection against the entry of water during prolonged submersion at a limited depth. NEMA 12 NEMA 12 enclosures are designed to prevent the ingress of dust, water, and oil.
Corrosive Location
Corrosive Location
Die Cast
Die Cast
Dual 120/277 voltage
Dual 120/277 voltage
Red Letter
New York City and Chicago require exit signs to have red letters