Wet Location Die Cast Brass Tritium Exit Signs
Exit Signs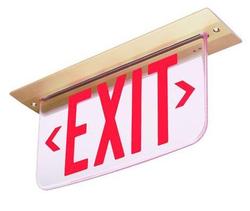 The exit signs category features lighted LED exit signs to comply with building fire codes and insurance standards. These energy-saving, illuminated, long-life LED exit signs use less than 5 watts of power, lowering your energy consumption and saving you money every month. We offer a wide range of designs and features for lighted LED exit signs including:
Edge-Lit Exit Sign
,
Cast Aluminum Exit Sign
,
Steel Exit Signs
,
Wet Location Exit Signs
and
Self Testing Exit Signs
.
Wet Location
Rated for outdoor wet location application - Weatherproof
Die Cast
Die Cast
Brass
Brass
Tritium
Tritium lumination is the use of gaseous
tritium
, a radioactive
isotope
of
hydrogen
, to create visible light. Tritium emits
electrons
through
beta decay
, and, when they interact with a phosphor material,
fluorescent light
is created, a process called
radioluminescence
. As tritium illumination requires no electrical energy, it found wide use in applications such as emergency
exit signs
and illumination of wristwatches. More recently, many applications using
radioactive
materials have been replaced with
photoluminescent
materials.