Wet Location Die Cast Brass Photoluminescent Exit Signs
Exit Signs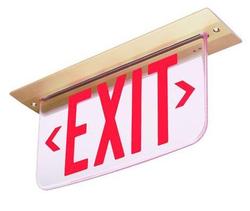 The exit signs category features lighted LED exit signs to comply with building fire codes and insurance standards. These energy-saving, illuminated, long-life LED exit signs use less than 5 watts of power, lowering your energy consumption and saving you money every month. We offer a wide range of designs and features for lighted LED exit signs including:
Edge-Lit Exit Sign
,
Cast Aluminum Exit Sign
,
Steel Exit Signs
,
Wet Location Exit Signs
and
Self Testing Exit Signs
.
Wet Location
Rated for outdoor wet location application - Weatherproof
Photoluminescent
Photoluminescent
(PL) or "glow in the dark" exit signs are a non-electrical, maintenance free signage option. They provide exceptional reliability and efficiency and do not require electricity or batteries to operate. PL signs only need another ambient light source for charging, making them very simple and affordable to maintain. Our selection of Photoluminescent exit signs from Glo Brite, Sure-Lites, Exit Glo, also comply with NYC Local Law 26 building and fire safety codes.
Die Cast
Die Cast
Brass
Brass