Sure-Lites Wet Location Die Cast Exit Signs
Sure-Lites
Whether your use involves a commercial, residential, upscale architectural or hazardous industrial market; a new or retrofit application, you have a choice of fixtures from a full line of products that meet NEC and UL standards. Solid-state electronics - switching and charging, overload protection and low voltage disconnects, plus brown-out protection circuitry assure reliability for every application. A new generation of high output, sealed, leak-proof and maintenance-free batteries further define Sure-Lites as a leader in the industry.
Exit Signs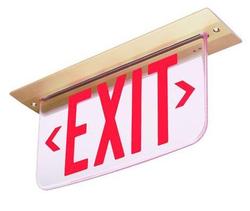 The exit signs category features lighted LED exit signs to comply with building fire codes and insurance standards. These energy-saving, illuminated, long-life LED exit signs use less than 5 watts of power, lowering your energy consumption and saving you money every month. We offer a wide range of designs and features for lighted LED exit signs including:
Edge-Lit Exit Sign
,
Cast Aluminum Exit Sign
,
Steel Exit Signs
,
Wet Location Exit Signs
and
Self Testing Exit Signs
.
Wet Location
Rated for outdoor wet location application - Weatherproof
Die Cast
Die Cast