Emergi-Lite Wet Location Metal Recessed Brass Black Self Luminous Exit Signs
Emergi-Lite
ELSC is a distributor of Emergi-Lite
"The Quality Name in Emergency Lighting"
Since the introduction of our first product in 1978, Emergi-Lite has pioneered and has led engineering specifications in the manufacture of reliable, quality emergency lighting equipment.


Over the years, we have gained worldwide recognition as an innovative industry leader producing the best emergency lighting life safety equipment – a leadership position attained through our continuing strict adherence to the most rigorous control standards known to the industry. Our North American manufacturing facility is unique to the industry since every product is manufactured under one roof and distributed to either our loyal stocking distributors or directly to a new or renovated facility.


The latest technology goes into our "Advanced Diagnostic" (AD) board design and the energy efficient ALINGAP LED lamps utilized in our exit signs. Every Emergi-Lite product – from our small capacity plastic units to our decorative architectural units and large cabinet extra wattage capacity units – is line tested to meet the rigorous standards of emergency lighting performance before shipment to the field. As part of the Thomas & Betts family, our ongoing commitment is to provide products of the highest quality at competitive prices – products like our newly-released NEMA-4X family of products and our decorative indoor and outdoor remote fixtures. Our continued growth, success and high levels of customer satisfaction are proof that we are accomplishing our goals.


In this catalog, we are proud to present the complete range of Emergi-Lite emergency lighting equipment, products we believe are amongst the finest available anywhere in the world.


Emergi-Lite is a division of Thomas & Betts
Exit Signs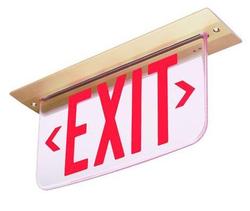 The exit signs category features lighted LED exit signs to comply with building fire codes and insurance standards. These energy-saving, illuminated, long-life LED exit signs use less than 5 watts of power, lowering your energy consumption and saving you money every month. We offer a wide range of designs and features for lighted LED exit signs including:
Edge-Lit Exit Sign
,
Cast Aluminum Exit Sign
,
Steel Exit Signs
,
Wet Location Exit Signs
and
Self Testing Exit Signs
.
Wet Location
Rated for outdoor wet location application - Weatherproof
Self Luminous
Self Luminous
Metal
Metal
Black
Most product that have black housing color are made of a thermoplastic material.
Brass
Brass
Recessed
Exit signs and lighting considered recessed will be partially hidden in a wall or ceiling. If you are looking to completely hide your lighting you might want to consider one of our
concealed emergency lighting
options.