Bow Lighting Self Diagnostic Tamper proof AC Only Industrial Steel Black Exit Signs
Bow Lighting
Emergency Lighting & Power Equipment
Emergency Lighting & Power Equipment takes great pride in the quality of all the products. Best Lighting is a quality-driven company which challenges us to closely monitor what we manufacture– from concept to reality. Best Lighting's team of design, engineering, manufacturing and supply chain professionals are well-seasoned and skilled at establishing and implementing a customized plan of action to ensure timely completion and customer satisfaction.
Exit Signs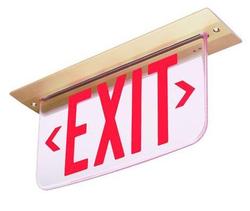 The exit signs category features lighted LED exit signs to comply with building fire codes and insurance standards. These energy-saving, illuminated, long-life LED exit signs use less than 5 watts of power, lowering your energy consumption and saving you money every month. We offer a wide range of designs and features for lighted LED exit signs including:
Edge-Lit Exit Sign
,
Cast Aluminum Exit Sign
,
Steel Exit Signs
,
Wet Location Exit Signs
and
Self Testing Exit Signs
.
Self Diagnostic
Self Diagnostic
Tamper proof
Steel
Steel Exit Signs
Industrial
Emergency Lite Service Center has a comprehensive line of industrial exit signs, emergency lights, batteries and accessories.
AC Only
AC Only
Black
Most product that have black housing color are made of a thermoplastic material.