Bow Lighting Self Diagnostic Tamper proof AC Only Industrial Red Letter Nickel–Cadmium (NiCd) Exit Signs
Bow Lighting
Emergency Lighting & Power Equipment
Emergency Lighting & Power Equipment takes great pride in the quality of all the products. Best Lighting is a quality-driven company which challenges us to closely monitor what we manufacture– from concept to reality. Best Lighting's team of design, engineering, manufacturing and supply chain professionals are well-seasoned and skilled at establishing and implementing a customized plan of action to ensure timely completion and customer satisfaction.
Exit Signs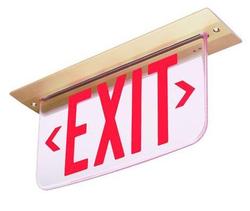 The exit signs category features lighted LED exit signs to comply with building fire codes and insurance standards. These energy-saving, illuminated, long-life LED exit signs use less than 5 watts of power, lowering your energy consumption and saving you money every month. We offer a wide range of designs and features for lighted LED exit signs including:
Edge-Lit Exit Sign
,
Cast Aluminum Exit Sign
,
Steel Exit Signs
,
Wet Location Exit Signs
and
Self Testing Exit Signs
.
Self Diagnostic
Self Diagnostic
Tamper proof
Industrial
Emergency Lite Service Center has a comprehensive line of industrial exit signs, emergency lights, batteries and accessories.
AC Only
AC Only
Red Letter
New York City and Chicago require exit signs to have red letters
Nickel–Cadmium (NiCd)
NiCad batteries are useful in applications requiring very high discharge rates because they can withstand such scenarios with little damage or loss of capacity. Nickel–Cadmium batteries are made in a wide range of sizes and capacities, from portable sealed types comparable to carbon-zinc dry cells, to large ventilated cells used for standby and motive power.
Compared to other rechargeable cells, NiCd batteries offer good cycle life and performance at low temperatures with fair capacity low internal resistance. Their true advantage is the ability to deliver practically full capacity at high discharge rates. However, their materials are more costly than lead acid batteries, and the cells have high self-discharge rates.
Emergency Lighting is your best source for NiCad batteries, including rechargeable NiCD batteries. We carry a variety of sizes, from AAA NiCD batteries to the larger F cell NiCD batteries. Our selections not only feature a range of sizes, but also an array of battery configurations. We can even build batteries to suit your need.
Shop our rechargeable NiCD batteries to replace the batteries in your standard electronic devices, emergency lighting and exit signs, solar lighting, and so much more. Use our battery finder to find the battery type and configuration that you need.
EmergencyLighting.com is dedicated to offering the very best batteries available on the market for all your needs. You'll appreciate great prices and fast shipping so you never have to endure downtime!