Economical Damp Location Combo Unit Black Self Diagnostic Red Letter Nickel–Cadmium (NiCd) Thermoplastic Exit Signs
Exit Signs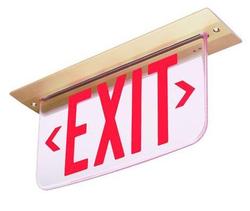 The exit signs category features lighted LED exit signs to comply with building fire codes and insurance standards. These energy-saving, illuminated, long-life LED exit signs use less than 5 watts of power, lowering your energy consumption and saving you money every month. We offer a wide range of designs and features for lighted LED exit signs including:
Edge-Lit Exit Sign
,
Cast Aluminum Exit Sign
,
Steel Exit Signs
,
Wet Location Exit Signs
and
Self Testing Exit Signs
.
Self Diagnostic
Self Diagnostic
Combo Unit
These exit signs are also equipped with additional emergency lighting. Check out all of our
LED Combo Unit Exit Signs
Economical
EmergencyLighting.com is a nationally recognized provider of quality
economical exit lights
&
emergency lighting products
& accessories for use in
commercial
,
industrial
, government and residential buildings. We offer a great value on a variety of products. Quality products at an affordable price.
Damp Location
These items can be placed where they may be splashed with water. Typically they are safe to be used outdoors.
Thermoplastic
Thermoplastic is a material, a polymer, that becomes pliable or moldable above a specific temperature and solidifies upon cooling.
Red Letter
New York City and Chicago require exit signs to have red letters
Black
Most product that have black housing color are made of a thermoplastic material.
Nickel–Cadmium (NiCd)
NiCad batteries are useful in applications requiring very high discharge rates because they can withstand such scenarios with little damage or loss of capacity. Nickel–Cadmium batteries are made in a wide range of sizes and capacities, from portable sealed types comparable to carbon-zinc dry cells, to large ventilated cells used for standby and motive power.
Compared to other rechargeable cells, NiCd batteries offer good cycle life and performance at low temperatures with fair capacity low internal resistance. Their true advantage is the ability to deliver practically full capacity at high discharge rates. However, their materials are more costly than lead acid batteries, and the cells have high self-discharge rates.
Emergency Lighting is your best source for NiCad batteries, including rechargeable NiCD batteries. We carry a variety of sizes, from AAA NiCD batteries to the larger F cell NiCD batteries. Our selections not only feature a range of sizes, but also an array of battery configurations. We can even build batteries to suit your need.
Shop our rechargeable NiCD batteries to replace the batteries in your standard electronic devices, emergency lighting and exit signs, solar lighting, and so much more. Use our battery finder to find the battery type and configuration that you need.
EmergencyLighting.com is dedicated to offering the very best batteries available on the market for all your needs. You'll appreciate great prices and fast shipping so you never have to endure downtime!