Economical Dual Circuit Black Die Cast Dual 120/277 voltage New York Approved Exit Signs
Exit Signs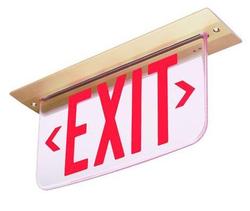 The exit signs category features lighted LED exit signs to comply with building fire codes and insurance standards. These energy-saving, illuminated, long-life LED exit signs use less than 5 watts of power, lowering your energy consumption and saving you money every month. We offer a wide range of designs and features for lighted LED exit signs including:
Edge-Lit Exit Sign
,
Cast Aluminum Exit Sign
,
Steel Exit Signs
,
Wet Location Exit Signs
and
Self Testing Exit Signs
.
Economical
EmergencyLighting.com is a nationally recognized provider of quality
economical exit lights
&
emergency lighting products
& accessories for use in
commercial
,
industrial
, government and residential buildings. We offer a great value on a variety of products. Quality products at an affordable price.
New York Approved
New York City requires that any exit signs and emergency lights:
Meets New York City Electrical Code (meets UL certification)
NFPA & OSHA require initial illumination of 1 foot-candle and a minimum at any point of 0.1 foot-candle. New York City emergency lighting requires TWICE that (an average of 2 foot-candle or 22 lux and a minimum at any point of 0.2 foot-candle or 2.15 lux measured along the path of egress at floor level). This is why The Exit Light Company recommend emergency lights with nine (9) watts on each head. Since even with the requirement for brighter lighting, the minimum standard of 90 minutes of run-time on battery backup power is in effect, NYC Code approved emergency lights are heavy-duty units with larger batteries.
The letters of exit signs and exit sign/emergency light combos are mandated to be red.
The height of letters shall be not less than 6 inches (152 mm), except that in Group A (theaters and concert halls) and Group R-1 (Shelters, Fraternity & Sorority Houses) occupancies letters shall be not less than 8 inches (203 mm) high. A change from previous years, now U.S. standard 6" exit signs are acceptable in most locations, but certain locales still require 8" exit signs.
All signs shall be of metal or other durable materials.
All high-rise buildings require photoluminescent exit path markings for egress routes.
Die Cast
Die Cast
Dual 120/277 voltage
Dual 120/277 voltage
Dual Circuit
Dual Circuit
Black
Most product that have black housing color are made of a thermoplastic material.