Economical Exit Signs
Exit Signs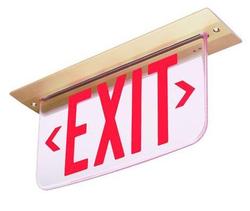 The exit signs category features lighted LED exit signs to comply with building fire codes and insurance standards. These energy-saving, illuminated, long-life LED exit signs use less than 5 watts of power, lowering your energy consumption and saving you money every month. We offer a wide range of designs and features for lighted LED exit signs including:
Edge-Lit Exit Sign
,
Cast Aluminum Exit Sign
,
Steel Exit Signs
,
Wet Location Exit Signs
and
Self Testing Exit Signs
.
Parts & Accessories
We have a wide range of emegency lighting and exit sign accessories to make sure you have the right amount of light when you need it and to protect your emergency lighting in those areas of high traffic or high impact. If you do not see something you are looking for specifically or if you have a general question/s please call 1-800-521-4045 or e-mail
elsc100@gmail.com
We look forward to working with you!
Economical
EmergencyLighting.com is a nationally recognized provider of quality
economical exit lights
&
emergency lighting products
& accessories for use in
commercial
,
industrial
, government and residential buildings. We offer a great value on a variety of products. Quality products at an affordable price.