Combo Unit High Lumen Exit Signs
Exit Signs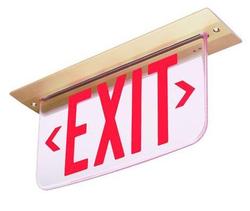 The exit signs category features lighted LED exit signs to comply with building fire codes and insurance standards. These energy-saving, illuminated, long-life LED exit signs use less than 5 watts of power, lowering your energy consumption and saving you money every month. We offer a wide range of designs and features for lighted LED exit signs including:
Edge-Lit Exit Sign
,
Cast Aluminum Exit Sign
,
Steel Exit Signs
,
Wet Location Exit Signs
and
Self Testing Exit Signs
.
Combo Unit
These exit signs are also equipped with additional emergency lighting. Check out all of our
LED Combo Unit Exit Signs
High Lumen
A lumen is a measure of the amount of brightness of a lightbulb -- the higher the number of lumens, the brighter the lightbulb.
High Lumen Emergency Lights
are much brighter than the standard emergency light.