Combo Unit Charger Board Exit Signs
Exit Signs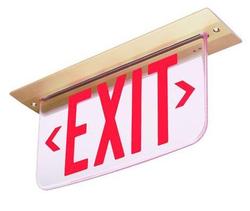 The exit signs category features lighted LED exit signs to comply with building fire codes and insurance standards. These energy-saving, illuminated, long-life LED exit signs use less than 5 watts of power, lowering your energy consumption and saving you money every month. We offer a wide range of designs and features for lighted LED exit signs including:
Edge-Lit Exit Sign
,
Cast Aluminum Exit Sign
,
Steel Exit Signs
,
Wet Location Exit Signs
and
Self Testing Exit Signs
.
Combo Unit
These exit signs are also equipped with additional emergency lighting. Check out all of our
LED Combo Unit Exit Signs
Charger Board
Is your charging board not charging your unit? You might need to replace it. Lucky for you, we have many replacement charging boards in stock!