Compass End Mount Die Cast Dual 120/277 voltage Exit Signs
Compass
Designed to reduce cost without sacrificing quality, Compass® Products by Hubbell Lighting, Inc. provide a value-driven, contractor-friendly product offering that can be purchased and installed without compromise.
How do you define "value"? For many, it equates to cost effective, quality products that perform reliably. For others, value means conserving capital, lowering transaction costs and minimizing returns. For everyone, quality is synonymous with having their expectations fully met or exceeded.
The Compass Series satisfies all these criteria.
The Compass line currently includes:
Life Safety Products: emergency lighting units, exit signs, remote lighting heads
Life Safety Products are listed to UL Standard 924, Emergency Lighting and Power Equipment.
Compass products are in stock, and usually ship within 24 hours of order entry.
All Compass products are backed by the sales and service support that has made Hubbell Lighting, Inc. a leading manufacturer and supplier of task and convenience lighting products for residential, commercial and light industrial applications.
Exit Signs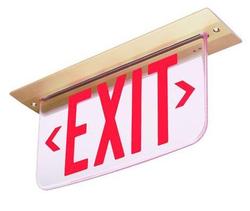 The exit signs category features lighted LED exit signs to comply with building fire codes and insurance standards. These energy-saving, illuminated, long-life LED exit signs use less than 5 watts of power, lowering your energy consumption and saving you money every month. We offer a wide range of designs and features for lighted LED exit signs including:
Edge-Lit Exit Sign
,
Cast Aluminum Exit Sign
,
Steel Exit Signs
,
Wet Location Exit Signs
and
Self Testing Exit Signs
.
Die Cast
Die Cast
Dual 120/277 voltage
Dual 120/277 voltage
End Mount
End Mount