Siltron | Bigbeam High Lumen Exit Signs



No Items were found that meet your search Criteria.
Siltron | Bigbeam
Emergency Light and Inverters Systems to Exit Sign, from Hand-Held Lanterns to Custom Fabricating and Finishing, when performance counts, rely on Big Beam to live up to our pledge of total quality in everything we do.
Exit Signs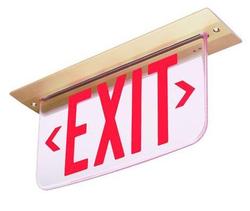 The exit signs category features lighted LED exit signs to comply with building fire codes and insurance standards. These energy-saving, illuminated, long-life LED exit signs use less than 5 watts of power, lowering your energy consumption and saving you money every month. We offer a wide range of designs and features for lighted LED exit signs including:
Edge-Lit Exit Sign
,
Cast Aluminum Exit Sign
,
Steel Exit Signs
,
Wet Location Exit Signs
and
Self Testing Exit Signs
.
High Lumen
A lumen is a measure of the amount of brightness of a lightbulb -- the higher the number of lumens, the brighter the lightbulb.
High Lumen Emergency Lights
are much brighter than the standard emergency light.