LightGuard Exit Signs



No Items were found that meet your search Criteria.
LightGuard
LightGuard has been out of business since 2011. For over 25 years, LightGuard was a provider of high quality exit signage and single point emergency lighting products. LightGuard also specialized in the production of UPS based single and three phase emergency lighting systems. E.L.S.C. will do our best to find you a substitute product that will work with your LightGuard products.
Exit Signs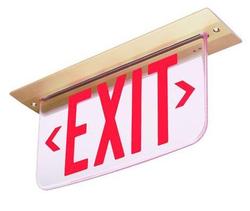 The exit signs category features lighted LED exit signs to comply with building fire codes and insurance standards. These energy-saving, illuminated, long-life LED exit signs use less than 5 watts of power, lowering your energy consumption and saving you money every month. We offer a wide range of designs and features for lighted LED exit signs including:
Edge-Lit Exit Sign
,
Cast Aluminum Exit Sign
,
Steel Exit Signs
,
Wet Location Exit Signs
and
Self Testing Exit Signs
.