Pace Electronics Exit Signs



No Items were found that meet your search Criteria.
Pace Electronics
Pace Electronics has been out of business since 2011
Emergency Light Series
Thermoplastic Adjustable L-LED
New York Series
Chicago Series
Thermoplastic Adjustable with MR16 Lamp
Remote Lamp Heads (Plastic)
Remote Lamp Heads (Metal)
50/100 High Wattage
Fixed Optics Units
Wet Location
Micro Thermoplastic Adjustable
Thermoplastic Adjustable
Exit Signs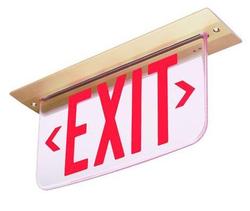 The exit signs category features lighted LED exit signs to comply with building fire codes and insurance standards. These energy-saving, illuminated, long-life LED exit signs use less than 5 watts of power, lowering your energy consumption and saving you money every month. We offer a wide range of designs and features for lighted LED exit signs including:
Edge-Lit Exit Sign
,
Cast Aluminum Exit Sign
,
Steel Exit Signs
,
Wet Location Exit Signs
and
Self Testing Exit Signs
.