AstraLite Brass Metal End Mount Bronze Exit Signs



No Items were found that meet your search Criteria.
AstraLite
Astralite, founded in Anandale, NJ in the early 1980s as a pioneer in L.E.D. lamp technology, has shown steady growth through an expansion of product offerings in the past 30 years. However, Astralite's commitment to its customers stands resolute and remains the same as the day it opened its doors more than two decades ago.
Astralite strives for superior customer service, quick shipment capabilities, and a product line that suits every need.
Today Astralite is headquartered in Brookfield, CT, approximately 50 miles northeast of New York City. This Brookfield facility serves as the major distribution center for a network of nationwide distribution hubs.
Exit Signs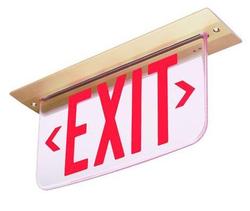 The exit signs category features lighted LED exit signs to comply with building fire codes and insurance standards. These energy-saving, illuminated, long-life LED exit signs use less than 5 watts of power, lowering your energy consumption and saving you money every month. We offer a wide range of designs and features for lighted LED exit signs including:
Edge-Lit Exit Sign
,
Cast Aluminum Exit Sign
,
Steel Exit Signs
,
Wet Location Exit Signs
and
Self Testing Exit Signs
.
Emergency Lights
Not all emergency light fixtures are equal. Our manufacturers build each light to serve a variety of needs. There are
Self Testing Emergency Lights
, which can save you time on mandated testing. There are
NEMA Certified Emergency Light fixtures
,
Explosion Proof fixtures
,
Concealed lights
,
Combo Exit Lights
and even more. Within our inventory of emergency lights, selected from top manufacturers, you'll find the perfect light for your facility. Don't know what the perfect light for you is? You can browse our huge selection, or you can get some help from our team. Our people have been in this business for over thirty years, and they're happy to talk about emergency light fixtures and much more. After all, emergency light is sort of our thing.
Metal
Metal
End Mount
End Mount
Brass
Brass
Bronze
Bronze