Recycling Battery Finder
Battery Finder
At Emergency Lighting, we stock all the essential battery styles from top manufacturers to ensure your emergency lighting and exit signage is always up to the task when you need it most.
There are many variations of rechargeable batteries available depending on the specific needs of your application. See the descriptions below to find the right battery to meet your needs.
Exit Signs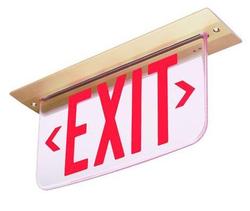 The exit signs category features lighted LED exit signs to comply with building fire codes and insurance standards. These energy-saving, illuminated, long-life LED exit signs use less than 5 watts of power, lowering your energy consumption and saving you money every month. We offer a wide range of designs and features for lighted LED exit signs including:
Edge-Lit Exit Sign
,
Cast Aluminum Exit Sign
,
Steel Exit Signs
,
Wet Location Exit Signs
and
Self Testing Exit Signs
.
Recycling
Are your old batteries piling up? Do you need battery recycling in Minnesota? Emergency lighting offers easy recycling of batteries in the metro area. Drop them off during business hours for no cost! Not in Minnesota? If you would like us to recycle your batteries please send them to:
ELSC
ATTN: RECYCLING
2525 NEVADA AVE NORTH
SUITE# 308
GOLDEN VALLEY, MN 55427
*Shipping will be at your cost.