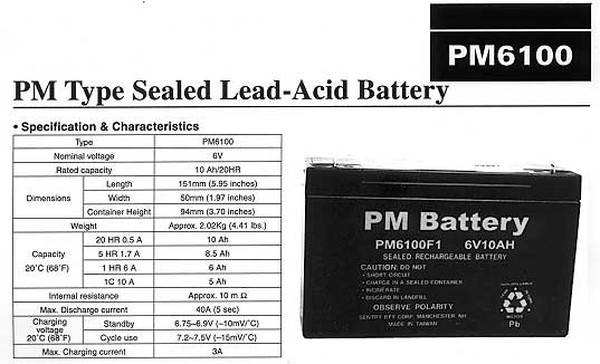 PM6100 OR PM-6100
Brand:

PM
Be the First to Review
RECHARGEABLE SEALED LEAD ACID BATTERY
PM BATTERY
For the new generation substitute CLICK HERE
This battery can also be used as a replacement for the following models. APC 450AT, APC 450AT+, APC 520 ES, APC 520ES, APC 550ES, APC AP450, APC AP520, APC AP800, APC AP800RT, APC BACKUP 450, APC BACKUPS 650, APC BACKUPS 900, APC SMARTUP 600, APC SMARTUPS 900, Batteries Plus CLTXPA612F, Battery-Biz B630, Best Technologies 9909076, Best Technologies FORTRESS 250, Data Shield PC200, Data Shield ST550, Data Shield TURBO2+, EFI Batteries LANGUARD 505, ELK Batteries ELK06120, Eagle Picher Batteri HE6V127, Elgar Batteries IPS600AI, Emergi-Lite 12LSM110, Emergi-Lite 12LSM54, Emerson Batteries 300, Exide Batteries POWERWARE 2000, GS Battery PE6V12, Global Technology Sy GTSRBC3, Interstate ASLA0959, Liebert UPSSTATION D, MS521 Mingda 6M4C, Oneac 1BP210, Oneac ONEBP210, Opti Batteries 1000, Pacific Power VANGUARD, Panasonic LCR0612P, Panasonic LCR6V12P, Panasonic LCR6V12P1, Para Systems Batteri MINUTEMAN 250XL, Para Systems Batteri MINUTEMAN 500, Para Systems Batteri MINUTEMAN 550, Para Systems Batteri MINUTEMAN A500, Peg Perego HEV127S3, Powersonic PS6100H, SLA0976, Safe Batteries 1200, Safe Batteries 250, Safe Batteries 425, Safe Batteries 425A, Safe Batteries 500, Safe Batteries 500A, Safe Batteries FES200A, Safe Batteries SM1400, Safe Batteries SM800, Safe Batteries SPS1000, Sola Batteries 520VA, Sola Batteries NETWORK UPS 600VA, Sola Batteries NETWORK600KVA, Sola Batteries SPSR1000A, Sonnenschein CR612, Sonnenschein LCR6V12BP, Tauber LCR6V12P, Tauber LCR6V12P1, Tripplite Batteries BC200, Tripplite Batteries BC450LAN, Tripplite Batteries BC600LAN, Tripplite Batteries BC675 PRO, Tripplite Batteries BCPRO 650, Tripplite Batteries DC600LAN, Tripplite Batteries OMNI 500LAN, Tripplite Batteries OMNIPRO 675, Tripplite Batteries OMNISMART 675, Tripplite Batteries PRO675, Tripplite Batteries SM0445, Tripplite Batteries SMART 1400, Tripplite Batteries SMART 800, Tripplite Batteries SMART700RM, Tripplite Batteries SMARTUPS 675, Unisys Batteries UP909, Universal Battery CB6120, Universal Battery UB6120, Upsonic Batteries LAN75A, Upsonic Batteries PCM80
Need quantities of 15 or more?
Call us at (800) 521-4045 for possible reduced pricing.
The PM6100 OR PM-6100 has either been discontinued or may no longer be available.
When you order the PM6100 OR PM-6100, we may substitute with equivalent or better product.
Scroll down to view
substitute product(s)
below.