AFN Affinity Emergency Light
Be the First to Review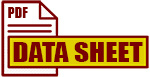 FEATURES & SPECIFICATIONS
INTENDED USE
Provides a minimum of 90 minutes illumination for the rated wattage upon loss of AC power. Ideal for applications requiring low-profile, attractive emergency lighting.
CONSTRUCTION
Compact, low-profile, architectural design with die-cast aluminum housing. Avail-able finishes are texturized polyester powder coat paint in brushed nickel, white, black and dark bronze. All finishes can be painted in the field to match the wall color of choice. U.S. Patent No. D468,046.

OPTICS
Standard optics provided with two 6W wedge-base xenon lamps offer 55 percent more light output than standard incandescent lamps. Patent-pending reflector/refractor design features superior vac-metalized, die-casted reflectors; and multi-faceted, highly transmissive refractor that significantly improve photometrics.
Forward throw (FWD) option optics provided with two high-brightness white LEDs (10.8W total), projecting an NFPA-101 compliant path 3' wide and 28' forward, when mounted 8-1/2' AFF. The typical life of the LED lamp is 10 years.
All light sources meet requirements for NEC 700.16.
Dual-voltage input capability (120/277V).
Edge connectors on printed circuit board ensure long-term durability.
Universal J-box mounting pattern.
Low-profile, integrated test switch/pilot light located below the lens.
Easily visible green status indicator.
Rigid conduit entry provision on top of the unit.

Sealed, maintenance-free lead-calcium battery provides 12W rated capacity. Nickel-cadmium battery with Premium and Exterior option packages. Automatic 48-hour recharge after a 90-minute discharge.

Low-voltage disconnect prevents excessively deep discharge that can permanently damage the battery. Single-circuit battery connection.
Dual-voltage input capability (120/277V).

Current-limiting charger maximizes battery life and minimizes energy consumption. Provides low operating costs.

Short-circuit protection — current-limiting charger circuitry protects printed circuit board from shorts. Thermal protection senses circuitry temperature and adjusts charge current to prevent overheating and charger failure.

Thermal compensation adjusts charger output to provide optimum charge voltage relative to ambient temperature.

Regulated charge voltage maintains constant-charge voltage over a wide range of line voltages. Prevents over/undercharging that shortens battery life and reduces capacity.

Filtered charger input minimizes charge voltage ripple and extends battery life. AC/LVD reset allows battery connection before AC power is applied and prevents battery damage from deep discharge. Brownout protection is automatically switched to emergency mode when supply voltage drops below 80 percent of nominal. EXT option package includes 20-minute time delay for supplemental lighting during HID startup. Self-diagnostics (PREM and EXT option packages)

Need quantities of 15 or more?
Call us at (800) 521-4045 for possible reduced pricing.