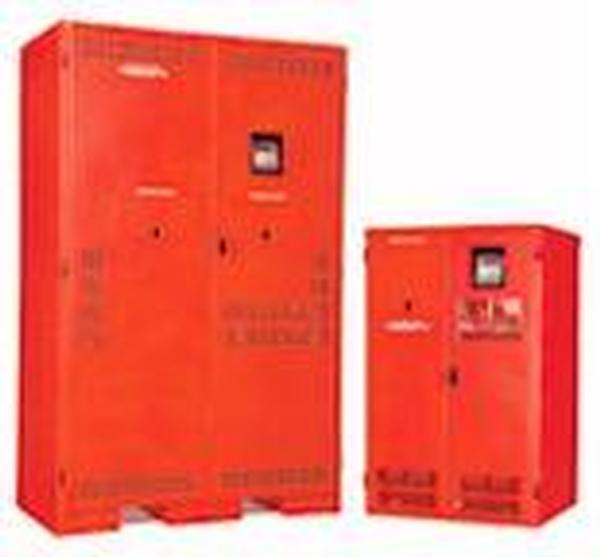 6-IE-8 Myers Inverters
Call for Pricing
Weight: 0 lb
SKU: 5177:6-IE-8
Additional Product Information
6-IE-8
6 IE 8
6IE8
For more information, open this spec: PDF
---
Myers Inverters

Inverter
Fourth generation IGBT-based inverter with dynamic pulse-by-pulse current limiting and inrush protection. Short circuit and overload protected by microprocessor and PWM integration for maximum reliability.

Waveform
Pure PWM sine wave, less than 3% THD with 0.5 leading and 0.5 lagging loads. Microprocessor and crystal controled.

Thermal Performance
Bonded fin heat sink technology for maximum thermal performance. Fan energized only on inverter mode which increases reliability and reduces preventative maintenance.

Battery Charger
Integrated 3 step with equalize, temperature controlled, 24-hour recharge for 90 minute system is standard.

Modular
Innovative modular sub-assembly design leads the industry with less than 15 minute MTTR.

Construction
Enclosure is cold-rolled steel with powder-coated surface. Hinged doors with security 3-point Corbin 60 locking system for easy access and maintenance.

Batteries
Front access, maintenance-free, sealed lead calcium VRLA batteries are standard. Significantly reduces installation and maintenance time and increases safety.

Small Footprint
25"(depth) x 30"(wide) 1.5-5kVA
25"(depth) x 48"(wide) 6-16.7kVA

Control Panel
Self-testing and self-diagnostics per NFPA and UL standards. Memory logs of over 1,525 parameters contained in Test, Event and Fault logs. Easy to read alpha-numeric display with user-friendly keypad integrates Systems' Meter, Alarm, Control, and Program functions.