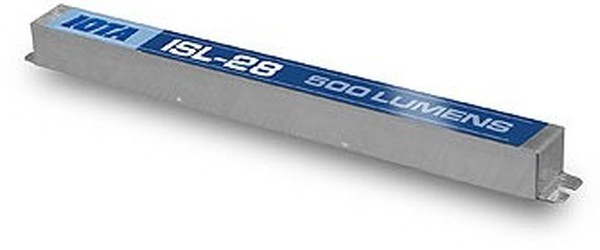 ISL-54
Be the First to Review
LUMEN OUTPUT
(1) Lamp - 825 lumens
LAMPS OPERATED
Most 2'-4' T5 or T8 linear lamps including HO and 40-55W 4-Pin long compact lamps.
EMERGENCY OPERATION
90 Minutes
PRODUCT DESCRIPTION
The ISL-54 Fluorescent Emergency Ballast allows the same fixture to be used for both normal and emergency operation. In the event of a power failure, the ISL-54 switches to the emergency mode and operates one of the existing lamps for 90 minutes. The ISL-54 delivers high performance in a slim design. This unit is ideal for use in linear lighting fixtures where ballast compartment space is limited. The unit contains a battery, charger, and inverter circuit in a single can. The ISL-54 is UL Listed for retrofit applications and can be used with most 2'-4' T5 and T8 fluorescent lamps, including HO and 40-55 Watt 4-pin long compact, at an initial output of up to 825 lumens for one lamp.
TECHNICAL SPECIFICATIONS
Input Voltage
120/277V 60Hz
Input Wattage
2.5 Watts
Lamps Operated
Most 2'-4' T5 or T8 linear lamps including HO and 40-55W 4-Pin long compact lamps.
Emergency Operation
90 Minutes
Initial Illumination
(1) Lamp 825 lumens
Operating Temp
0 to 55 degrees C
Approval
UL and CUL Listed
Weight
2.4 lbs
AVERAGE LUMEN RATINGS
Lamp-----1 Lamp
14W T5-----450
21W T5 Pentron (FP21)-----500
24W T5-----450
28W T5 Pentron (FP28)-----800
39W T5-----700
54W T5-----825
F17 T8-----650
F25 T8-----650
F32 T8-----700
F40 T8-----600
36W Long Compact-----675
40W Long Compact-----675
50W Long Compact-----650
55W Long Compact-----650
FEATURES
U.L. and C.U.L. Listed
Will cold start and operate all specified lamps
Long-life high-temperature recyclable Ni-Cad battery
90-minute emergency operation
Dual voltage 120/277V, 60Hz
Time Delay Enhancement
Open Circuit Isolation
Slim design fits in smaller ballast compartments
Includes test switch/charge indicator accessory kit
Meets or exceeds all National Electrical Code and Life Safety Code
Emergency Lighting Requirements
International Voltage and Damp Location Models available
DIMENSIONS
LENGTH 17.5 INCHES
HEIGHT
1.15 INCHES
Need quantities of 15 or more?
Call us at (800) 521-4045 for possible reduced pricing.