5.00/
1 Customer Review
|
Write a Review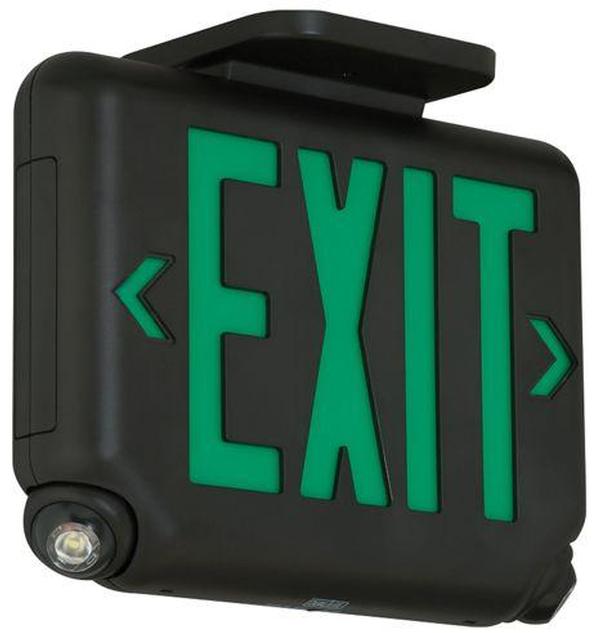 DESCRIPTION
EVCUGBD4-AF
EVCUGBD4 AF
EVCUGBD4AF
For more information, open this spec:
PDF
---
Dual-Lite Emergency Lighting
Application
The EVC / EVCU series is a compact architectural LED combination exit and emergency lighting unit designed for fast installation and reliable service. The EVC series features a slightly textured, flame-rated, UV stable thermoplastic white or black housing with fully adjustable, dual-ratcheting integral LED based lamp-heads. This unit provides a full 90 minutes of exit and emergency lighting. The EVC includes a micro-controller based on 3 stage constant current/constant voltage charger, and a long-life lithium iron phosphate battery. The EVC accepts 120/277 VAC input at 50 or 60Hz and optional 220-240 VAC input at 50 or 60 Hz with self-diagnostics option.
Features
• Architectural LED based exit and emergency light for wall, ceiling or end mounting commercial applications.
• High impact, flame rated and UV stable with thermoplastic housing.
• Fully aimable, dual-ratcheting high output LED lamp-heads.
• Environmentally friendly, long life-cycle lithium iron phosphate battery.
• UL924 Listed (optional damp location listed).US patent pending
Options
• Damp location listed
• Self-test/Self-Diagnostics
• Black Finish
• 220-240 VAC Input
Accessories
• EV unit
• EVR2 and EVO LED remotes
• VRS3 - Vandal resistant shield
Temperature Range
• Standard 68°F - 86°F (20°C - 30°C) Damp Location 50°F - 104°F (10°C - 40°C)
Compliance
• Listed to UL standard 924 (Emergency Lighting)
• NFPA 101 (Life Safety Code)
• NFPA 70 (National Electrical Code)