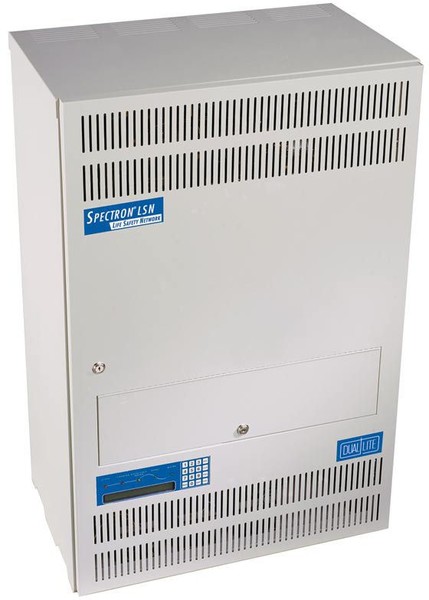 Spectron-LSN
Call for Pricing


The pricing on this item fluctuates due to availability.
Weight: 1 lb
SKU: 01:10:Spectron-LSN
Additional Product Information
Hubbell Lighting

Application

The Spectron LSN Central Lighting Inverter provides an efficient, reliable, centralized no-break battery back-up system with a wide array of options making maintenance minimal.

Features
The Spectron LSN Life Safety Network is designed

Pulse width modulated technology
"No break" power
100% load compatibility
Reduced maintenance expense
Maximized reliability and security
Improved building aesthetics
Minimized space requirements
Communications capability

Advanced Design

The basic elements of an inverter system are batteries, an inverter, a charger and a transformer. Spectron LSN, however, is unlike traditional IPS, FT or UPS systems because of its innovative design.
This pulse width modulated (PWM) high-frequency inverter utilizes the latest IGBT (Insulated Gate Bipolar Transistor) technology. The AC-in to AC-out operating efficiency is 98%, well above other central inverter system equipment.

Communications

All Spectron LSN inverter systems are equipped with an RS232 communication interface designed to give the user greater flexibility in monitoring and controlling the system.

Big Performance...Small Footprint

Spectron LSN inverter system's feature-rich design is provided in an incredibly compact package. Spectron LSN system capacities under 5KVA require less than four square feet of floor space; all other systems up to 15KVA require less than eight square feet - the smallest footprints in the industry!

Compatibility

Spectron LSN systems provide 100% compatibility with all connected loads. "No break" sinusoidal output assures that even voltage-sensitive or frequency-sensitive loads will operate normally during emergency operation.

Simplicity

Single, centrally located power source
Intelligent, easy-to-use interface panel
Automatic, programmable self-diagnostic operation
Utilizes existing lighting fixtures for emergency illumination
No secondary backup power or lighting equipment required
Connects into existing electrical panel - no special wiring required

Safety

Audio-visual service alarms
Meets or exceeds all UL 924 and UL 1778 requirements
Digitally generated sine wave output
42,000 RMS symmetrical ampere short-circuit rating
Built-in backfeed relay to protect personnel from potential shock hazard

Security

spectron LSN systems are normally installed in utility areas away from normal public access
Locking cabinetry prevents tampering
Password-protected user interface prevents operation by unauthorized personnel

Application Support

Dual-Lite's representatives provide application assistance and customer support to meet your needs. Through training, technical support literature and the assistance of factory application engineers, representatives will work with the engineer and end-user to select the proper system.

Factory Start-Up (FS)

Factory Start-Up is designed to insure proper operation and installation of the Spectron LSN inverter system. It provides for a highly trained factory-authorized technician to administer an on-site, point-by-point visual check of the system. Included is a check of all internal electrical connections, AC and battery connections, system voltages and all system operating parameters. The system is then powered up and all system parameters are tested, calibrated and recorded. The technician will also perform a battery discharge test to insure proper battery capacity. If any malfunctions are detected, the technician will remedy them while on site (depending on the availability of parts), or make arrangements to do so. The technician will instruct on-site personnel about the operation and maintenance of the equipment. Warranty of the equipment will commence on the start-up date.

Service Agreement (SA)

Provides for an annual visit by a factory-authorized technician to test all system options and related accessories. Technician will perform a physical and mechanical inspection of all batteries and battery connections. Included will be a test, calibration and recording of the system charger output, battery float voltages and all input/output settings. Technician will also perform a simulated power outage, discharging the batteries to 87.5% of nominal voltage and record readings of individual battery voltages.

Monitoring Program (MP)

Requires Factory Start-Up (FS) and Fax Modem (FAX) options. It provides for the continuous monitoring of the equipment by our Technical Support Group. All monthly and yearly system tests will be reviewed and analyzed for early warning signs of system malfunctions. Any failures will be automatically relayed to our Service Department where corrective action can be taken. This Monitoring Program is the only automated failure reporting system in the industry. It requires a dedicated analog telephone line, to be provided by the customer.

Toll-Free Number

A toll-free phone has been set up for Spectron LSN service questions. The number is: 1-800-848-6439 For our customers' convenience, this phone number is printed on the inside of the unit's cabinets.
For more information, open: