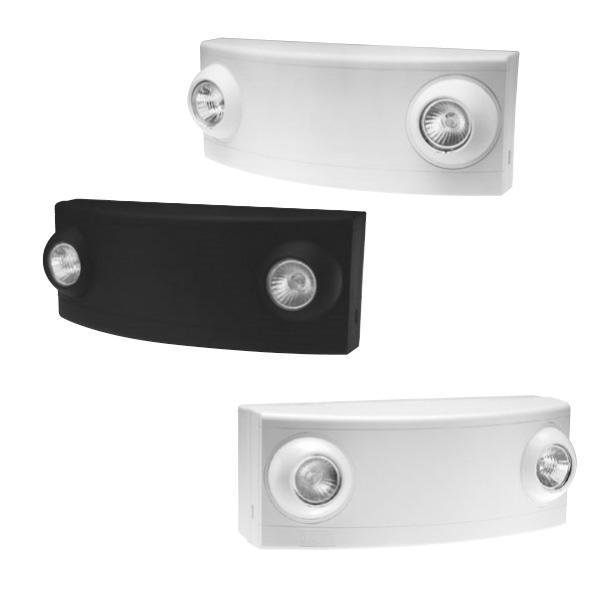 LZ Series
See
PRODUCT DESCRIPTION

5.00/
1 Customer Review
|
Write a Review
LZ Emergency Light
---
Dual-Lite Low Profile Emergency Lighting
Application
The LZ Series is an indoor emergency lighting unit with 10 - 30W capacity utilizing a sealed lead-calcium battery in 6 VDC. Supplied standard with two halogen MR16 lamps. High-output LED based MR16 option provides increased spacing, additional run-time and/or increased remote capacity. Matching remote heads are also offered. The integrated lamp design offers greater protection from vandalism.
Construction
Available in two housing sizes, one for standard capacity models (LZ2, LZ15) and increased depth for higher capacity models. Made from UV stabilized thermoplastic with a snap-together design in white or black finish. Includes test switch and AC-ON indicator.
Installation
Unit mounts to 3½", 4" octagon or 4" square boxes. Back-plate provides a universal knockout pattern for mounting to outlet box. Keyholes provided for securing housing to wall surface. LZ2 and LZ15 can be ceiling mounted. All AC connections made inside unit housing.
Illumination
The LZ Series provides illumination with two halogen MR16 lamps positioned inside an adjustable "eyeball" style housing. Optional lamps for greater light output include 10W MR16 and maximum coverage high-output LED based MR16.
Compliances
UL 924 Listed (optional damp location listed)
NFPA 70
NFPA 101
ADA compliant (LZ standard models only)
U.S. Patent Nos. D400,991, D419,708, D400,995, 6,280,042 and 6,019,477
Warranty
Fixture: 3 Years Full, 5 Years Full with Spectron
Battery:
Lead-Acid Models - 2 Years Full, 3 Years Pro Rata
Ni-Cad Models - 2 Years Full, 8 Years Pro Rata
Lifetime LED Warranty
VARIATIONS

LZ30-B

LZ30I-03L
Capacity: 30 Watts
Battery Type: Lead Calcium
Rating: Standard
Output Voltage: 6 Volt
Self-Diagnostics: Yes
Lamps: 3W LED Lamps
Housing Color: White
Voltmeter: No
Line Cord: None

LZ30I-03L-B
Capacity: 30 Watts
Battery Type: Lead Calcium
Rating: Standard
Output Voltage: 6 Volt
Self-Diagnostics: Yes
Lamps: 3W LED Lamps
Housing Color: Black
Voltmeter: No
Line Cord: None