5.00/
1 Customer Review
|
Write a Review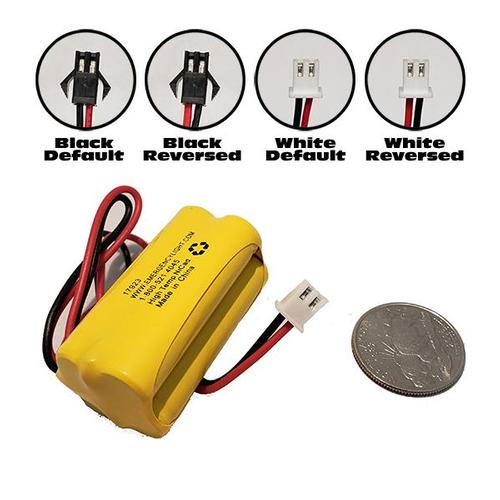 Product Specifications

Nominal Voltage
4.8 V
Length
0.75"
21mm
Width
0.75"
21mm
Height
1.75"
45mm
Weight
0.09lbs
0.04kgs
Cell Type
AAA
Configuration
Cube
17923 4.8V AAA 300mAh Battery
See
PRODUCT DESCRIPTION
below
Starting at $
12.95
PRODUCT VARIATIONS
DESCRIPTION
This 4.8 Volt NiCad battery pack contains 4 - 1.2 Volt AAA NiCd cell batteries in a
Cube configuration
with a 12" lead and your choice of connector.
Battery pack for Exit Signs and Emergency Lights
Replaces AAA 4.8V 300mAh or higher
Rated for High Temperature locations
Dimensions: 43mm x 20mm x 20mm
17923 4.8V AAA 300mAh Battery Reviews - Write a Review
MikeY
- Mar 27, 2020 -
Verfied Purchase

These batteries were an exact match to what was needed for some obsolete EXIT fixtures. Unfortunately, the fixtures were to far gone and will have to be replaced.
I was able to use one of these batteries in a different fixture, and have other fixtures I might need these for.
I will look to Emergency Lighting for specialized battery needs in the future.
Thank You
Mike Yates