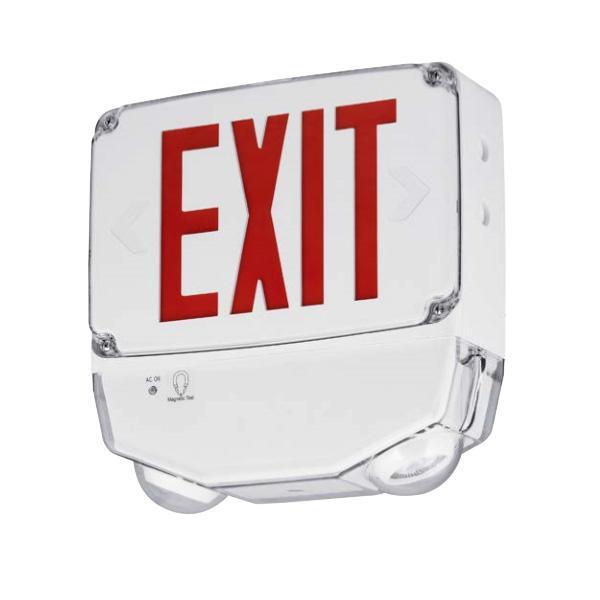 CWC Exit Combo
Be the First to Review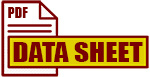 CWC Exit Light Combo
CWC1RW, CWC2RW, CWC1GW, CWC2GW, CWC1RW-CT, CWC2RW-CT, CWC1GW-CT, CWC2GW-CT
DESCRIPTION
CWC Wet Location Combination Exit/Emergency Light The CWC is a wet location, LED based combination exit/emergency light. The combo has an EXIT face-plate and lamp-head shield made of UV stabilized polycarbonate. The housing is made of 5VA flame retardant polycarbonate with a white finish and is fully sealed and gasketed. Includes a die-cast canopy for ceiling or end mount. Combo can also be wall mounted using the universal knock-out pattern in single-face application. Illumination provided by 2 each high power MR-16 based LED's driven at 3.6 watts per head. Knock-out chevrons provide directional indication.
Includes Self-Test/Self-Diagnostics
LED life-cycle of more than 10 years
Fully Adjustable lamp-heads
Quick installation
120/277VAC input
Includes long-life 6VDC Nickel Cadmium battery
Full re-charge within 24 hours
Provided with magnetic test switch and AC-On indicator
UL924 Wet Location Listed, 0C° to 50°C Standard Model, -20°C to 50°C with CT, "Cold Temperature" option




The CWC can be applied in areas that are susceptible to rain and severe moisture, such as parking decks, pools and outdoor commercial applications.





UL924 Listed for Wet Location


NFPA 101 and NFPA 70

OSHA


This item can replace: CWC1RW, CWC2RW, CWC1GW, CWC2GW, CWC1RW-CT, CWC2RW-CT, CWC1GW-CT, CWC2GW-CT

Need quantities of 15 or more?
Call us at (800) 521-4045 for possible reduced pricing.