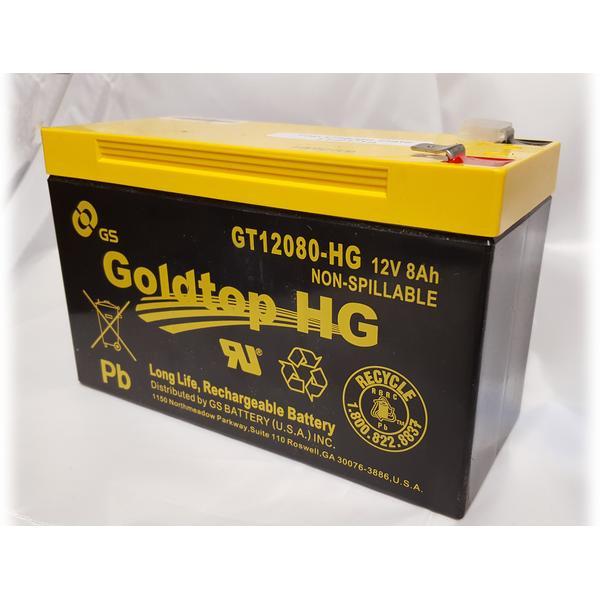 Product Specifications

Nominal Voltage
12 V
Rated Capacity - 20hr
8 Ah
Length
5.94"
151mm
Width
2.56"
65mm
Height
3.72"
94.5mm
Ht. Over Terminal
3.9"
99mm
Weight
5.6lbs
2.54kgs
Terminal
F2
GT12080-HG GS Battery

5.00/
3 Customer Reviews
|
Write a Review
GT12080-HG
GT12080 HG
GT 12080 HG
GS BATTERY - GT12080-HG - Premium Replacement for PX12072 for for AT&T, Centurylink and most other FTTH systems
We sell genuine GS Portalac Batteries for direct replacement applications.
**Direct to Consumer PX120702 Replacement Battery
---
Designed to industry standards, these super long life batteries offer best in class performance and are an outstanding value. Proven in real world field trials in the Southeast and desert southwest, these batteries provide the most cost effective battery solution available in the market today.

Available in front terminal and top terminal designs to fit a wide range of applications. GS Battery's unique construction means less maintenance for you as annual maintenance is not required. Our special terminal alloy does not require the use of a water barrier coating, saving time and money during installation and eliminates the messy grease required by some of our competition.

-Accept no imitations.

-GS Battery provides the only OEM-approved Gold top battery for fiber to the home backup units Free upgrade.

-GT12080 is the next generation of the PX12072 battery Designed for long life: 6 - 8 years

-replacement warranty - better than the industry standard of 1-year or less limited warranty Show more -11% longer talk time Manufactured at GS Yuasa factories to the highest quality standards


This item can replace: PX12072, PS-1280

Need quantities of 15 or more?
Call us at (800) 521-4045 for possible reduced pricing.
GT12080-HG GS Battery Reviews - Write a Review
StephenS
- Mar 06, 2020 -
Verfied Purchase

Excellent replacement, will find out if battery last as long as the warranty.
CharlesO
- Jun 14, 2020 -
Verfied Purchase

It was a perfect fit for my Verizon router. No more beeping or having to turn off the beeper every day.
AshleyH
- Jul 19, 2020 -
Verfied Purchase

Quality product, very fast service ! Next time we need a backup battery for our FIOS interface box, you are in our Rolodex.
Thank You
Kiss Electronics
Ms Ashley Hall
Owner
Cornelius, Oregon
www.kiss-electronics.com