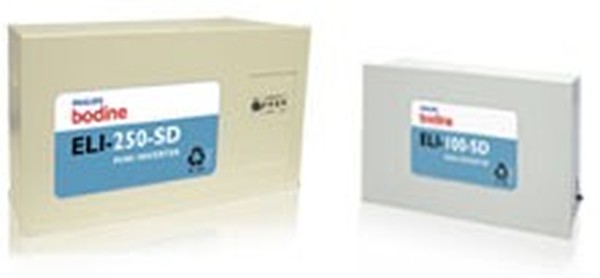 ELI100SD, ELI250SD Bodine Inverter
$2,312.00
Weight: 75 lbs
SKU: 01:39:ELI100SD-250SD
Additional Product Information
For Instruction info, please open:
PDF FILE
---
The Philips Bodine ELI-100-SD and ELI-250-SD Self-Diagnostic Emergency Lighting Mini Inverters provide power to fluorescent, incandescent and LED-lamped emergency lighting fixtures. They supply both indoor and outdoor applications for at least 90 minutes, in compliance with emergency lighting code.
The ELI-100-SD supports up to 100 W, while the ELI-250-SD supports up to 250 W. The UL Listed units are designed for surface mount and may be installed up to 1000 from the fixtures they serve. Connected fixtures may be on, off, switched or dimmed. Unlike fluorescent emergency ballasts, ELI mini inverters supply power to the input side of the fixture. This design eliminates compatibility issues.
ELI SDs are self-diagnostic and automatically conduct 15-minute tests of emergency operation every 25-30 days. An indicator light alerts maintenance personnel to fault conditions.
They are ideal for schools, office buildings, theaters, hotels, shopping centers, restaurants, grocery stores, parking garages, stairways and many other locations.
Maximum Load Power

ELI-100-SD: 100W

ELI-250-SD: 250W

AC Input Power Rating

ELI-100-SD: 120 Watts

ELI-250-SD: 315 Watts

Dimensions

ELI-100-SD:

18-5/8" x 9-5/8" x 4-3/8"

ELI-250-SD:

18-5/8" x 10-1/8" x 8-1/4"