5.00/
2 Customer Reviews
|
Write a Review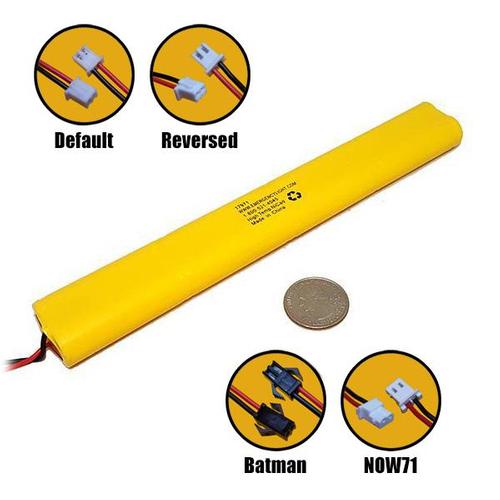 Product Specifications

Nominal Voltage
9.6 V
Rated Capacity - 20hr
0.9 Ah
Weight
0.39lbs
0.177kgs
Cell Type
AA
Configuration
2x4
17971 9.6v AA NiCAD Battery
See
PRODUCT DESCRIPTION
below
Starting at $
18.00
PRODUCT VARIATIONS
DESCRIPTION
This NiCad battery pack contains 8 AA 1.2v NiCd cell batteries in a
2x4 configuration
with a 12" lead and your choice of connector.
Battery pack for Exit Signs and Emergency Lights
Replaces AA 9.6V 600mAh or higher
Rated for High Temperature locations
Dimensions: 195mm x 29mm x 14.2mm
This item can replace: ELB-B004
VARIATIONS
17971 9.6v AA NiCAD Battery Reviews - Write a Review
dconnellygeisrealtycom
- Dec 29, 2020 -
Verfied Purchase

Easy to order and replace battery.
BillG
- Nov 07, 2019 -
Verfied Purchase

Fast shipping !